Home

Case Studies

KEEP Toolkit Case Studies

Effectively Representing Educational Experience
KEEP Case Studies: Effectively Representing Educational Experience
Effectively Representing Educational Experience
The University of British Columbia
The University of British Columbia has been testing various e-portfolio tools and the pedagogies that enable students to effectively represent their educational experiences. As part of this 3-year pilot project, students earning their Masters of Education (M. Ed.) in the Department of Educational and Counseling Psychology and Special Education created professional e-portfolios, using these portfolios to serve as a final summary of their work and sometimes as part of a professional package that could be shared with employers.
Marion Porath led the culminating seminar, which was the capstone experience for the first 18 M.Ed. students to create e-portfolios in the pilot. She designed the course with various objectives for students to accomplish, including being able to:
articulate educational and professional goals,
identify and describe how graduate coursework and other experiences have facilitated meeting those goals,
link theory and research to practices,
supply/present artifacts which demonstrate mastery of educational and professional goals, and
describe how artifacts will support future educational and professional activities.
She knew that students needed to show their achievement of these objectives with an e-portfolio, and that her students would not necessarily know how to do this. In order to help, Marion created her own example and gave students a specific set of requirements. First, she was clear about making sure students' portfolios were goal driven—every artifact needed to support the professional goals students set for themselves. After clear articulation of these goals, she asked students to supply a "road map" about how each artifact relates to a specific goal or objective. An annotated reference list, documents that reflected student progress toward goals, an up to date resume, and a letter of application to a potential employer also had to be included in the e-portfolios.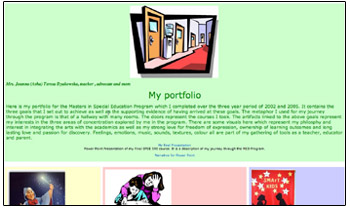 Joanna Teresa Dyakowska's goals are very evident
The list of requirements was not daunting, but students needed to find a way of integrating all of these pieces and representing them in an engaging manner. Marion helped them along in a few different ways. In addition to providing her own example, she used a pedagogical framework that incorporated reflection on and integration of learning, technology, and a community of learners.
To help students reflect and integrate, she introduced the idea of learning metaphors to her Education students. Using James Lawley and Penny Tompkins's Learning Metaphors, she encouraged students to tie their graduate experiences to other experiences and actions taken or planned for. Students in the class worked together, exploring different metaphors and ways to use the KEEP Toolkit to represent these new ideas, which were meant to help integrate and provide access to their experiences.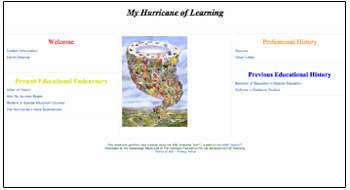 Donna Heikkila's metaphor of learning
tells a lot about her experience
Marion did not provide a pre-fabricated template for her students but instead helped them build a community, develop their own ways of integrating their experience, and gave them access to all of the KEEP Toolkit's case studies and templates. When complete, she assessed students' e-portfolios on their ability to present their integration of learning.
Students found the tool flexible and able to support their representations of learning and reflection. They were able to be creative and were pushed into "thinking in new ways." They also felt that this form of portfolio was much more conducive to the goals of the class than a paper portfolio because they could share their metaphor and easily link to selected artifacts and "stitch" together snapshots.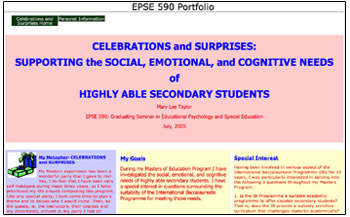 Mary Lee Taylor used stitched snapshots
to share her experiences.
Marion also expanded her skills and feels that she has acquired a "new tool for knowledge building." By looking at her students' changing work and seeing how group members influenced one another, she was able to see how students conceptualized and re-conceptualized their learning.
E-portfolios created by the KEEP Toolkit are now the standard for Masters of Education students' culminating project. Because these groups are growing, UBC is looking into hosting the tool on their own servers.