KEEP Case Studies: Showing Subject Matter Competency at SFSU
Showing Subject Matter Competency at SFSU
San Francisco State University has piloted the KEEP Toolkit to support their English Education eportfolio, in which undergraduate English majors who plan to enter teacher credential programs used the Toolkit to assemble and reflect on their work as English majors. They did so under the guidance of the two professors of English Education at San Francisco State University, Dr. Paul Morris and Dr. Nelson Graff, and a lecturer teaching one of the undergraduate pedagogy courses, Jasmine Kitses.
This very forward-looking campus has begun the process of making eportfolios, which are mandated to show subject matter competency, effective 2009. In KEEP Toolkit accounts, students received stitched templates that were created, following the English Education core competency requirements.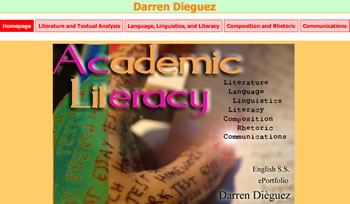 Dr. Ruth Cox, eportfolio consultant for SFSU, hopes that candidates using the Toolkit will benefit in several ways. They should, by assembling and reflecting on their work over the course of their English majors, see the major more coherently. Dr. Nelson Graff adds, "I hope for them also, by reflecting on their learning in terms of a set of competencies, to reinforce their learning as they prepare to enter a teacher credentialing program, adding a dimension of metacognition to the learning in their undergraduate work, and preparing to think about portfolio use in their own teaching." Further, because accessing the KEEP Toolkit links users to the Teaching and Learning Commons, which includes a variety of resources on improving education; he hopes they will pursue some of those connections.
This particular pilot effort is new but is a part of the university's larger eportfolio work, which includes a very informative site on the processes and products of portfolios. The site also showcases student examples, including 2 made with KEEP Toolkit.
Students have only begun to create their portfolios, but according to Dr. Cox, they have shown that they are indeed "developing in terms of their ability to reflect on their work and their sense of coherence of their coursework."