Home

Collections

CASTL K12
The Carnegie Academy for the Scholarship of Teaching and Learning in K-12 Education
CASTL K-12 Collection. The collection from the Carnegie Academy for the Scholarship of Teaching and Learning in K-12 Education (CASTL K-12) presents the work of elementary and secondary teachers who investigated their teaching using a scholarly method. The representations in this collection were produced in conjunction with web developers who learned how best to support this kind of documentation.

The sites found here include multimedia projects from nine secondary school and six elementary school teachers. Each project provides a unique perspective and format for sharing the complex work of teaching.

These sites are also found in the Inside Teaching Collection, where they were transformed into curriculum materials for teacher educators.




15 cases are in this collection. Result Page: 1 simple format::
extended format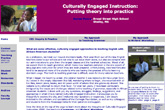 Culturally Engaged Instruction (CEI): Putting theory into practice
Renee Moore
As an English teacher at a rural all-Black high school in the Mississippi Delta, Renee Moore enjoyed a genuine fellowship with her students, many of whom she worked with outside of school in church and community activities. Lessons in literature and writing went reasonably well (for a beginning teacher), but when she started to teach grammar, her students seemed to "hit a brick wall." She had two simultaneous responses to the wall. She immediately started searching for and experimenting with more effective grammar instructional methodologies, and she began what would become a career long action-research study on the issues surrounding the teaching of standard American English to African American students.

Created: 2006-08-01


Human Agency, Social Action and Classroom Practices: What happens when teachers move over to allow students to pave their own path towards enacting change?
Vanessa Brown
Vanessa Brown's work focuses on the students and classroom practices of her ninth grade English/Language Arts classes. It grew out of the tensions that arose when her beliefs about the juxtaposition of social action and classroom practices collided with the realities of socio-economic status, personal agency, social and emotional stability and student choice and voice. Through the stories of three urban high school youth who actually represent hundreds of others with similar stories, she contributes to and challenges the discourse regarding critical pedagogy in urban education. Her video interlaces both music and photos to represent the dual nature of the students' lives, which is both static and shifting.

Created: 2003-11-24


The Development and Use of Representations in Teaching and Learning about Problem Solving: Exploring the Rule of 3 in Elementary School Mathematics
Tim Boerst
Tim Boerst has explored instructional approaches that foster the development of representational skill and routine use of multiple representations in problem solving. In particular he has used the "Rule of 3" (a structure employed in calculus reform materials that highlights the use of numerical, algebraic, and/or graphic representations in mathematical learning) to see whether an emphasis on multiple representations would deepen mathematical learning opportunities for a wide variety of students.

Created: 2003-11-24


Learning from our conversations in English: Using video in the bilingual classroom as a tool for reflection on English language learning and teaching
Sarah Capitelli
Since beginning her teaching career, Sarah Capitelli has been concerned with how to best meet the needs of her English language learners during English language development class. In particular, she is concerned with how to help them create a strong foundation for their learning of English. In her research, she has discovered that her school's program has not worked for the most needy students. Her research questions were 1) What structures support English language development in the classroom? 2) How do conversations between students support English language learning? 3) What strategies do good English language learners use? And 4) How can video be used to give students a window into their English language learning?

Created: 2003-11-24


A Friend of Their Minds: Capitalizing on the Oral Tradition of My African American Students
Yvonne Divans Hutchinson
Yvonne Divans Hutchinson is a National Board certified teacher who has focused for many years on developing strategies to engage all her students in substantive discussions of literary texts and the issues those texts raise for their own lives. In this approach, she builds on the oral traditions of her students African-American and Latino cultures and seeks to support the development of their literacy skills through high standards, explicit expectations, and rigorous literature experiences. Her online "class anatomy" (a documentation and analysis of one instructional period) juxtaposes video clips with commentary and samples of classroom documents. In the video clips, Hutchinson reflects on her expectations for the class, a student orally presents the "class scribe" notes from the previous day, the students engage in small group and large group discussion about a racially charged literary selection that had been assigned the night before, and after the class, four students reflect on their experiences in Hutchinson's classroom, and how her rigorous approach and emphasis on dialogue and diversity prepares them for other academic work.

Created: 2003-01-01


Heterogeneous Grouping and High Standards in an Untracked Advanced English Class
Joan Cone
This website describes Joan Cone's teaching journey to address challenges of diversity, inequity, and achievement in her High School English classroom. At El Cerrito High School, Cone has been an integral part of an ongoing struggle to detrack the English curriculum. Over the past few years, her thinking has built from an investigation into the "co-construction of low achievement," to address what she's learned by developing essential practices to construct students as achievers in her classroom and the school.

Created: 2003-01-01


Pio Pico Researchers Participatory Action Research: From Classroom to Community, Transforming Teaching and Learning
Emily Wolk
Emily Wolk is a teacher of a group of students, aged 8-11 years old, called the Pio Pico Researchers. Together, since the group started in 1996, the group convinced the city of Santa Ana to install a signal light at one of the most dangerous intersections in the city, in the immediate vicinity of Pio Pico School. Wolk used an alternative inquiry method called Participatory Action-Research (PAR) with her students. The children used radar guns, plotted data on a computerized mapping system called GIS, and presented at City Hall. Through their work to improve pedestrian safety, the students not only learned the basic skills necessary to succeed in school; they also learned the basic skills necessary to transform their world.

Created: 2002-01-01


Setting Up a Successful Journalistic Learning Community
Esther Wojcicki
In this website, Wojcicki describes how participation in a journalistic learning community can motivate even the most recalcitrant student. The website includes sample copies of the newspaper, The Campanile and the magazine, Verde, which are examples of the kinds of student outcomes that can be achieved when students are excited about learning and have ownership of their learning and the product of their learning: the publications. Wojcicki's students have won several major national and international competitions over the past fifteen years. Both publications are self-supporting which means that all students in the program are responsible for learning how to sell ads and to interact with the community. This helps students develop important interpersonal skills and also acts as a public relations mechanism for the school and for the newspaper. It also brings the community closer to the school and makes people feel as though they are active participants in the education process.

Created: 2002-01-01


Looking Beyond Themselves: Preparing Students to Become Invested Members of Their Community
Anne Pfitzner
As a sixth grade teacher, Pfitzner struggled to find a way to truly reach her students. She wanted to help her students find a deeper connection to what they were learning, allowing them to feel ownership of their knowledge. She developed a project based on community activism to help her students escape the cliques and disconnectedness so common to sixth graders in her school. Pfitzner documented this journey as she and her students identified and addressed a need in their community for a non-fishing oriented park for children and their families. This website reveals the pedagogical strategies she used to allow students the opportunity to feel true ownership of their learning, and highlights key turning points in the process of watching eleven and twelve year olds grow from passive learners to inspired citizens.

Created: 2002-01-01


Playing with the Possible
Marsha Pincus
This website documents a high school drama class in which students wrote and performed their own autobiographical monologues. The site is centered around video clips that illustrate how students used drama to develop, express, and debate understandings around contested issues in their lives. Pincus also reflects on the nature of teacher inquiry and its role in her personal and professional development.

Created: 2001-01-01


Making Change Visible
Mary Hurley
This site documents the changes made in one fifteen-minute reading/writing activity in first grade over one entire school year. The site shows the revisions necessary to create an effective learning experience for all students and provides examples of the development of students' work. There are also excerpts from Hurley's own journal, her audio commentary, and a video tour of her classroom, and her reflections on the change process as a whole.

Created: 2001-01-01


Multiple Measures of Student Achievement in an Interdisciplinary Unit on the Harlem Renaissance
Irma Lyons
This website shows the culmination of a 5th-grade class interdisciplinary project on the Harlem Renaissance: a student-created museum and exhibition. The site uses video comments of students, teachers, and parents work to provide a multiplicity of perspectives on the project, and offers links to Lyons philosophy and year-long curriculum.

Created: 2001-01-01


The Mission Hill School (2001)
Heidi Lyne
This website is built around a documentary film on the portfolio graduation process at the Mission Hill School. The documentary and the site depict both the development of the students' written work and presentations, and the efforts of the faculty to implement and refine their approach. Sections of the film are juxtaposed with school documents and examples of students' work.

Created: 2001-01-01


Creating space for diverse perspectives and student learning
Diane Waff and Suzann Ordile
This website is an "illustrated case" of the teaching of a high school English class on the literature of social vision and social change. The case examines the use of multicultural materials in a standard English class and the instructors' efforts to refine the course as the year progressed. The website offers video clips of classroom activities, teacher reflections, and examples of student work.

Created: 2001-01-01


Creating a Community of Learners: Lessons from a High School Journalism Program
Esther Wojcicki and Kim Austin
This site provides an example and illustration of a learning community in a high school journalism class. The site is drawn from the teacher's reflections as well as a researcher's studies in this classroom. The site describes the key components of learning communities, their manifestation in this classroom, videos of classroom interactions, and a related bibliography.

Created: 2000-01-01